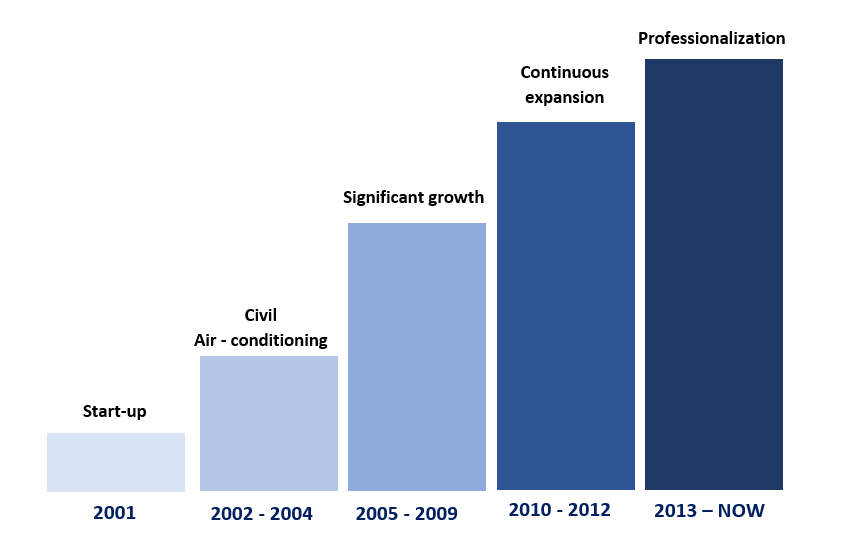 2001: Start-up
Hai Nguyen Co., Ltd was founded with a mission of becoming a proactive and professional company in air-conditioning. Possessing strong passion with technical skills and experiences in working with domestic and foreign enterprises, the founders of the company is committed to delivering the best air conditioning services, enhanced by the latest technology and pleasant customer experiences.
2002 – 2004: Civil air-conditioning
The company experienced a strong growth in the civil air-conditioning segment with a wide range of services, including assembling, repair and maintenance of air-conditioning machines.
2005-2009: Significant growth
This period was a turning point of Hai Nguyen when the company successfully expanded to the industrial market and started to cooperate with multiple supermarket chains in the South of Vietnam. At the same time, the company enhanced partnership with foreign firms in order to acquire new technology and import high-quality products.
2009- 2012: Continuous expansion
Hai Nguyen expanded to most of the main cities in Vietnam. At the same time, the company started cooperation with different hotel chains and food processing enterprises.
2013 - Now: Professionalization
Since 2013, Hai Nguyen still proved itself as one of the best service provider in air-conditioning. However, the company still aims to grow more strongly with specific goals for the future:
+ Enhance cooperation with foreign firms in order to diversify products that meet the changing demand from customers.
+ Build a strong and professional organizational system in accordance with ISO standard
+ Establish a showroom as an interactive channel with customers.